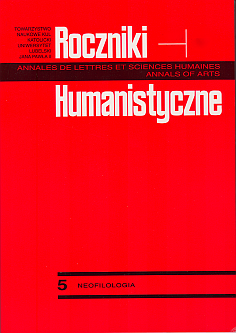 ROCZNIKI HUMANISTYCZNE, zeszyt 5: NEOFILOLOGIA

ISSN 0035-7707
RADA NAUKOWA / SCIENTIFIC COUNCIL:
Enrique Balmaseda Maestu, Anna Bondaruk, Grete Dalmi, Aidan Doyle, Thomas Pittrof, François Rosset, Ramón González Ruiz, Marek Jakubów, Paweł Matyaszewski, Anna Rutka, Marzena Watorek, Witold Wołowski
KOMITET REDAKCYJNY / EDITORIAL BOARD:
Janusz Bień (REDAKTOR NACZELNY), Edyta Kociubińska (SEKRETARZ), Marzena Górecka, Magdalena Szulc-Brzozowska, Urszula Paprocka-Piotrowska
Adres Redakcji/Editorial Office Address:
Instytut Filologii Romańskiej
Katolicki Uniwersytet Lubelski JP II
Al. Racławickie 14
20-950 Lublin
In preparation: Volume 2019
Current volume:
http://czasopisma.tnkul.pl/index.php/rh/issue/view/514/showToc
The review principles for "Roczniki Humanistyczne" [Annals of Arts and Humanities] (f. 1-10)
1. Invited for reviewing of articles for "Roczniki" [Annals] are specialists who have a recognized background in the field, which falls maximally close to the problem area of the reviewed article.
2. Each text is submitted for review by two reviewers (Review Form).
3. The reviewers recruit from research institutes other that the author's. The review is blind.
4. The filled review form is disclosed to the author of the article without disclosing the data about the reviewer.
5. In case when the two reviews contradict, the Editorial Board is allowed to elect a third independent reviewer.
6. The review form is available for the website and enclosed in each issue of RH.
"Aktualne badania młodych niderlandystów w Europie Środkowej"