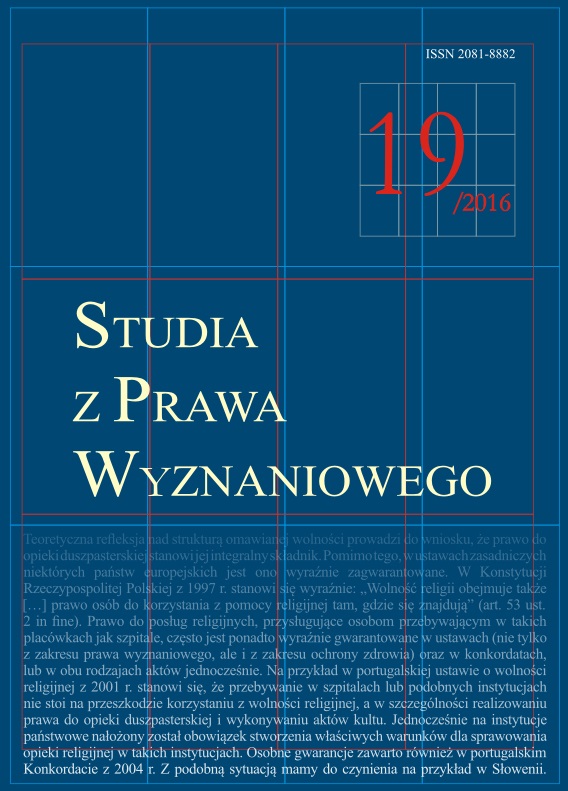 ISSN 2081-8882 (print)
ISSN 2544-3003 (online)
Studia z Prawa Wyznaniowego (The Studies in Law on Religion) is an annual journal published by the Faculty of Law, Canon Law and Administration of the John Paul II Catholic University of Lublin. It aims to publish scholarly articles on the legal aspects of religious freedom as well as relations between the state and churches (especially the Catholic Church) and other religious denominations. The journal gives special attention to Polish law on religion. However, its coverage also encompasses issues related to the laws of other states, the legal regulations of the European Union and the international legal protection of freedom of thought, conscience and religion. Besides research articles, the journal also includes book reviews and reports of conferences dealing with law on religion

. The content of every volume is evaluated by supervisors who are asked to do it for each volume.

The journal is indexed in:

We invite all interested to collaborate with our journal (contact with editor's office). You may subscribe it, or order an individual issue (to do this contact the publishing house, please).

Editor's office:
Department of Law on Religion
Al. Racławickie 14/701
20-950 Lublin
Poland
phone: (+48) 81 445-37-01
e-mail: wyznanie@kul.pl
website address: www.kul.pl/slr ; www.kul.pl/spw.eng

Publishing house:
Wydawnictwo KUL


ul. Konstantynów 1H

20-708 Lublin
Poland

phone: (+48) 81 740-93-40

fax (+48) 81 740-93-50

e-mail:

wydawnictwo@kul.pl
According to the Act of 26 January 1984 - Prawo prasowe (Press Law), the journal was registered in the register of journals and magazines under item 1305 by the District Court in Lublin The First Civil Division.
© Copyright by Wydawnictwo KUL

This is an open access journal which means that all content is freely available without charge to the user or his/her institution. This work is licensed under a Creative Commons Attribution-NonCommercial-NoDerivatives 4.0 International License.