Appointments of new pro-rectors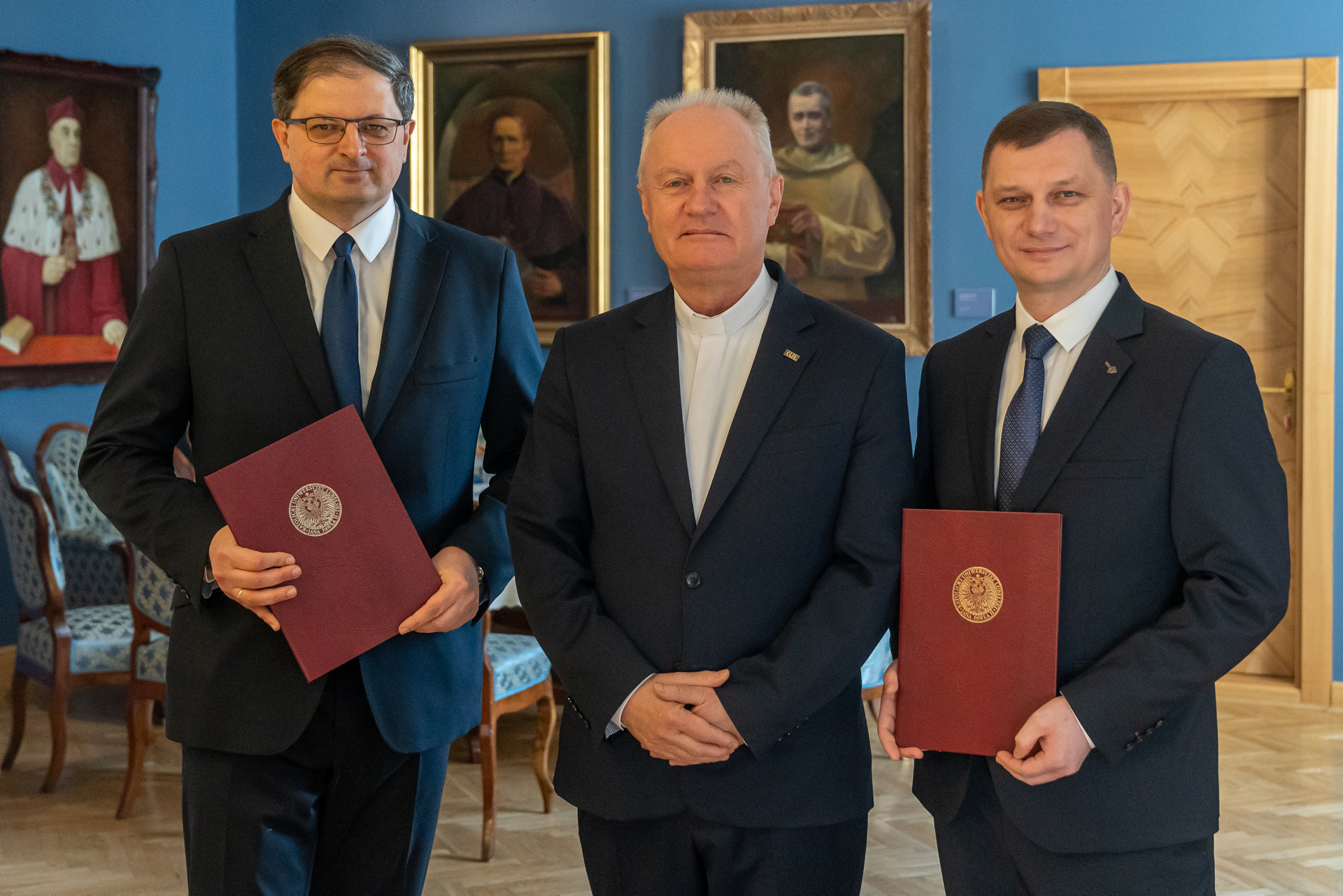 Dr. hab. Adam Zadroga, prof. KUL and dr. hab. Paweł Nowik, prof. KUL - have joined the Rector's college of our university. Today, Rector Rev. Prof. Miroslaw Kalinowski handed them pro-rectorial appointments. Prof. Zadroga will be in charge of the university's administration, while Prof. Nowik will be in charge of finance.
Dr. hab. Adam Zadroga, prof. KUL, researcher and lecturer of KUL in the Department of Social Moral Theology. Economist, moral theologian. His scientific research is focused on such areas as business ethics, social entrepreneurship and Catholic socio-economic thought. He is involved in the activities of Studium KUL for inmates at the Detention Center in Lublin.
He studied theology at KUL where he received his master's degree on the basis of a thesis written under the supervision of o. A. Derdziuk. He also graduated in economics at KUL - he wrote his master's degree under the direction of Z. Gilowska. He received his doctorate from the Catholic University of Lublin in 2007. He completed further doctoral studies in economics at the Warsaw School of Economics.
He received his post-doctoral degree (habilitation) in theological sciences with his book titled "Catholic economic and social thought in the face of the fundamental assumptions of mainstream economics", KUL Publishing House, Lublin 2018. Zadroga also completed postgraduate studies in ICT, English language and music at UMCS Lublin, as well as in Management of scientific research and development works in scientific units at the Lublin Business School.
In 2010 -12, he participated in study visits to the United States (Grand Rapids, Mi) at The Acton Institute for the Study of Religion and Liberty. He also did a 3-month research internship in Slovakia at Katolícka Univerzita in Ružomberok, and a year later a month-long internship at the Nanovic Institute for European Studies at the University of Notre Dame
Dr hab. Paweł Nowik, University Professor, Chair of the Department of Labour and Social Insurance Law and Plenipotentiary of the Rector for the prevention of mobbing. His research interests include among other things: axiology of labour law, theory of collective labour law, labour law and new technologies.

He graduated from law school in 2001 and received his doctorate in 2007 on the basis of his doctoral dissertation "Negotiating system of shaping remuneration for work in Poland" fprepared under the supervision of prof. Grzegorz Goździewicz, Prof. KUL. In 2017, he received his habilitation on the basis of the publication "The concept of legal equilibrium in collective labour law".
He is a correspondent member of the Scientific Society of KUL and served as expert of the National Centre of Science. He gained management experience as a chancellor at Lublin University of Applied Sciences King Władysław Jagiełło in Lublin (formerly Lublin Business School – High School).