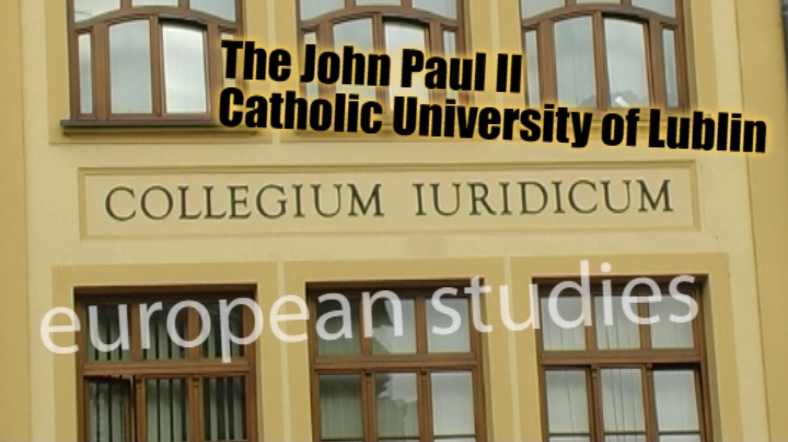 Presentation of European Studies and European Union Law
In October of 2016 the John Paul II Catholic University of Lublin launches new BA and MA Programs in European Studies and European Union Law in English.
BA and MA studies in Polish, more...
The Program


European Studies and European Union Law at KUL are interdisciplinary studies that develop interests connected with European history and culture and the ability to understand and analyze the social, political, legal and economic phenomena that occur in the European Union.

Following completion of the European Studies and EU Law program graduates will be fluent in areas that are a key part of European legal regulations. They will be specialists in the scope of European problems and will acquire professional skills that are demanded on the European labor market. These studies will provide not only the acquisition of theoretical knowledge, but also supplement this knowledge with very important practical skills.

Apprenticeship and Exchange Programs, Language Learning


The Institute has a strong working relationship with both national and International institutions. This cooperation leads to many opportunities for European Studies students to serve an apprenticeship as various institutions, including the European Parliament with a member of Parliament, the Polish Ministry of Foreign Affairs, unites of the central and local government and non-governmental organizations.
Students also can participate in the Erasmus European Student Exchange Program.
The program of the European Studies puts a heavy emphasis on language learning, encouraging both written and spoken fluency. Apart from obligatory English, students are studying a second European language. Additionally, many of classes offered at the Faculty and University are taught in languages other than Polish.


The profile of a graduate
A graduate of the European Studies program is a specialist prepared to work as a professional staff member at institutions of local and national government, and national and international cultural and social agencies, such as EU institutions and other international organizations. The European Studies program prepares graduates for work in public and private enterprises in Poland and throughout Europe. As the program puts a heavy emphasis on language learning, Bachelor studies may be continued in English on the master degree level.
Studies by non-EU (EEA) candidates are available with payment of tuition.
To learn more about studies, contact us