Laboratory of Composite and Biomimetic Materials

Laboratory team
Acting Head of Laboratory
Agnieszka Szmagara, PhD
Assistant Professor (research)
email: agnieszka.szmagara@kul.pl
tel. +48 (81) 454 56 31
ORCID: 0000-0001-9483-058X
Elżbieta Anna Stefaniak, PhD, DSc (leave)
Associate Professor
email: emelist@kul.pl
tel. +48 (81) 454 56 35
Agnieszka Krzyszczak, MSc
Scientific researcher
email: agnieszka.krzyszczak@kul.pl
tel. +48 (81) 454 56 31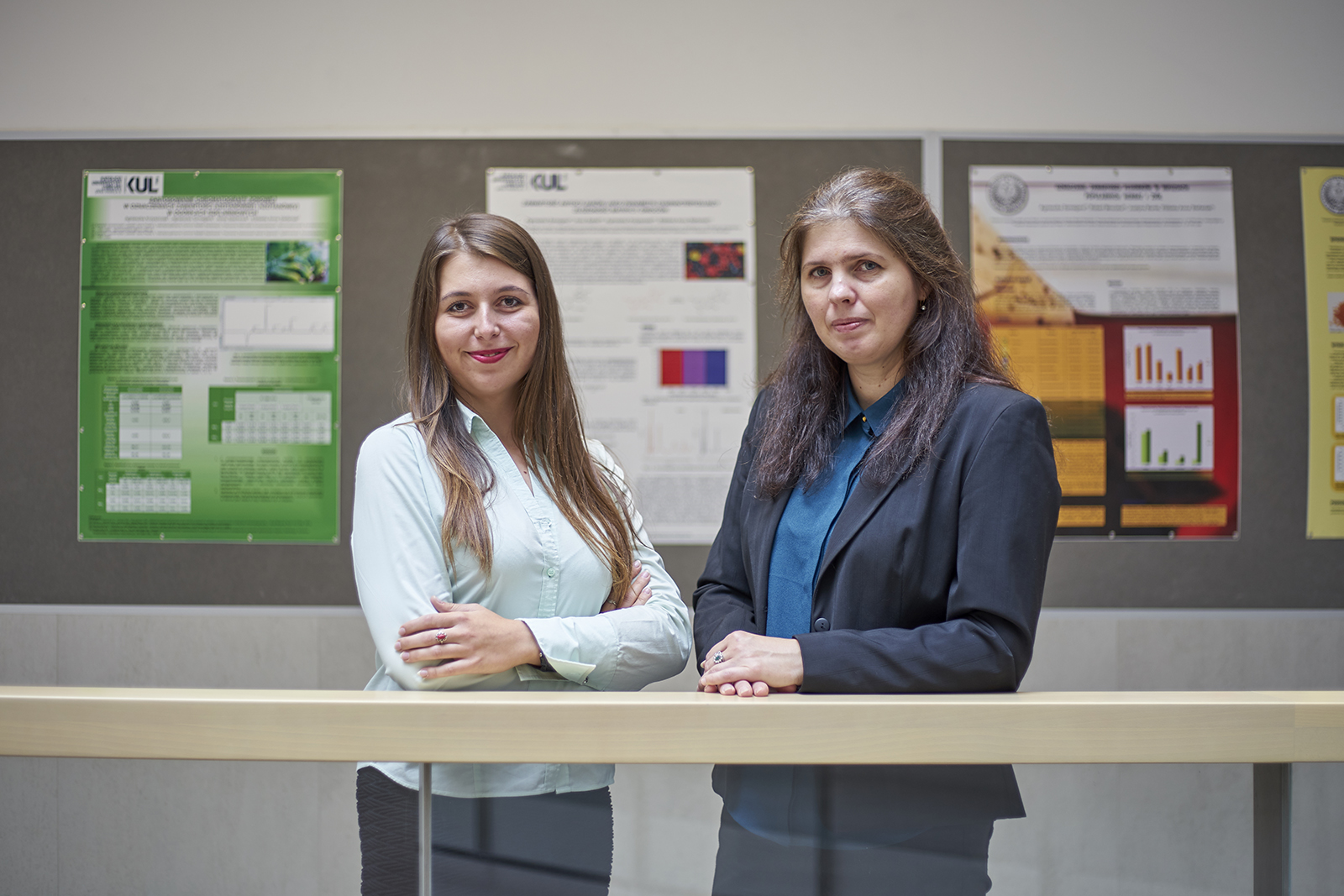 The Laboratory of Composite and Biomimetic Materials undertakes a wide range of studies towards microanalysis, identification and description of solid complex samples, by means of non-destructive techniques.
The research tasks include mapping the element distribution in micro-areas to identify accumulation and co-relationships of elements, qualitative and quantitative analysis of trace elements in tissues and microstructures, and structural analyses of micro- and macro-objects.
In its research activities, the Laboratory applies direct solid analysis with a help of Raman spectroscopy, infrared radiation spectroscopy (IR), Scanning Electron Microscopy with X-ray microanalysis (SEM+EDS), X-ray diffraction (XRD) and inductively coupled plasma mass spectrometry with the laser ablation system (LA-ICP-MS). Owing to the rich experience of the research team and application of the aforementioned techniques, it is possible to carry out a comprehensive analysis of composite materials.
Another research task include analysis of polyphenolic compounds in plant matrix, elimination of interferences, use on new, simpler and more sensitive methods of polyphenols determination.
Currently, the Laboratory cooperate with research institutions on research projects including:
Usage of strontium salts to prevention and treatment of osteoporosis (in cooperation with the Medical University in Lublin);
Analysis of characteristics and content of atmospheric aerosol particles on the area of coal mine (in cooperation of Lubelski Węgiel "Bogdanka" S.A. and Maria Curie-Sklodowska University in Lublin);
Determination of heavy metals' concentration in honey samples produced by urban bees (in cooperation with New Chemical Syntheses Institute in Puławy);
Qualitative and quantitative analyses of polyphenolic compounds in plant matrix.
Analysis of chemical contaminants in plant and food materials.
The Laboratory is equipped with instruments:
Renishaw inVia Raman microscope equipped with 513 nm (Ar ion) and 785 nm (diode) lasers, two detectors (CCD and EMCCD), 5x, 20x, 50x and 100x objectives, and FastTrack System Map.
FTIR and FT-Raman spectrometres (Thermo) equipped with a 1025 nm He-Ne laser, a micro laboratory table, and a diamond ATR module, Ge and InGaAs detectors.
Tescan Vega LMU scanning electron microscope with the Oxford Instruments EDS detector; it is equipped with a variable vacuum system, a tungsten heated cathode serving as an electron gun, LVSTD, SE and BSE detectors, an EDS detector coupled with INCA software;
X'Pert X-ray diffractometer with a Cu tube and a general Bragg-Brentano optical arrangement, equipped with a capillary optical device which focuses a beam to 10-50μm, a proportional counter detector and digital software for recording and processing spectra along with a database;
Thermo Scientifc XSERIES 2 Quadrupole Inductively Coupled Plasma Mass Spectrometer (ICP-MS) to simultaneous multi-element analysis in solutions, equipped with a New Wave 213 nm laser ablation system used for the solid sample analysis.
Spectrofluorimeter (F-2000 Hitachi) equipped with Xe lamp to measure the fluorescence of sample in the range 220-800 nm, and used both to quantitative and qualitative analysis;
Ion chromatograph (ICS Dionex 1100).
Recent papers:
Dobrowolski, R., Krzyszczak, A., Dobrzyńska, J., Podkościelna, B., Zięba, E., Czemierska, M., Jarosz – Wilkołazka, A., Stefaniak, E. A.; Extracellular polymeric substances immobilized on microspheres for removal of heavy metals from aqueous environment, Biochemical Engineering Journal, 2019, 143, 202 – 211. DOI: 1016/j.bej.2019.01.004.
Szmagara, A., Krzyszczak, A., Sadok, I., Karczmarz, K., Staniszewska, M., Stefaniak, E. A.; Determination of ellagic acid in rose matrix by spectrofluorimetry, Journal of Food Composition and Analysis, 2019, 78: 91 – 100. DOI: 10.1016/j.jfca.2019.02.003.
Szmagara, A., Krzyszczak, A.; Monitoring of fluoride content in bottled mineral and spring waters by ion chromatography, Journal of Geochemical Exploration, 2019, 202, 27 – 34. DOI: 1016/j.gexplo.2019.03.008.
Karczmarz K., Szmagara A., Stefaniak E.A., Ellagic acid content in selected wild species of fruit roses. Acta Scientiarum Polonorum, Hortorum Cultus 18(5): 131-140. DOI: 24326/asphc.2019.5.13.
Stachniuk A., Szmagara A., Stefaniak E.A., Spectrophotometric assessment of the differences between total nitrate/nitrite contents in peel and flesh of cucumbers, Food Analytical Methods, 2018, 11(10), 2969-2977. DOI: 1007/s12161-018-1274-2.
Sadok I., Szmagara A., Staniszewska M., The validated and sensitive HPLC-DAD method for determination of patulin in strawberries, Food Chemistry, 2018, 245, 364–370. DOI: 1016/j.foodchem.2017.10.093.
Falgayrac G., Siepka D., Stefaniak E.A., Penel G., Sobanska S., Influence of collecting substrates on the Raman imaging of aerosol particles, Analytica Chimica Acta, 2018, 1014, 41–49. DOI: 10.1016/j.aca.2018.02.015.
Siepka D., Uzu G., Stefaniak E.A., Sobanska S., Combining Raman microspectrometry and chemometrics for determining quantitative molecular composition and mixing state of atmospheric aerosol particles, Microchemical Journal, 2018, 137, 119–130. DOI: 10.1016/j.microc.2017.10.005.