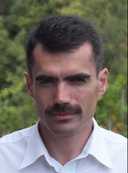 Oleg Gorbaniuk
Associate Professor
Department of General Psychology
John Paul II Catholic University of Lublin, Poland.
PhD in Economics (2000)
PhD in Psychology (2001)
Habilitation in Psychology (2012)
---
Office: C-406, Department of General Psychology, Al. Raclawickie 14, 20-950 Lublin, Poland
Phone: +48 81 4453406
e-mail: oleg.gorbaniuk@kul.pl
---
GENERAL RESEARCH INTERESTS

social psychology
quantitative methods of data analysis
methodology of marketing research
consumer behavior
political marketing
CURRENT RESEARCH INTERESTS

psycho-lexical studies
social perception
image of brands, corporations, politicians, political parties, and countries
RECENT PUBLICATIONS
2020:
Gut, A.P., Haman, M., Gorbaniuk, O., Chylińska, M. (2020). The development of understanding opacity in preschoolers: A transition from a coarse-to fine-grained understanding of beliefs. Frontiers in Psychology, 11, 1-15. DOI: 10.3389/fpsyg.2020.00596 [PDF, English]
Gorbaniuk, O., Wilczewski, M., Krasa, P. (2020). The domain adjustment problem in the context of product brands: does user-imagery allow a human-to-human comparison? Fundamental and Applied Researches in Practice of Leading Scientific Schools, 38(2), 99-108. DOI: 10.33531/farplss.2020.2.18 [PDF, English]
Kolańska, M., Gorbaniuk, O., Wilczewski, M. (2020). From exploratory research to structural models: A multilevel lexical approach to studying the image of marketing objects. East European Review, 11(2), 131-143.
Aftyka, A., Rozalska, I., Pawlak, A., Gorbaniuk, O. (2020, w druku). Intensification of post-traumatic stress symptoms, level of experienced stress and coping strategies in mothers of children previously treated in the Neonatal Intensive Care Unit. Psychiatria Polska.
Ivanova, A., Gorbaniuk, O., Błachnio, A., Przepiórka, A., Mraka, N., Polishchuk, V., Gorbaniuk, J., Ploschinska, B. (2020). Mobile Phone Addiction, Phubbing, and Depression Among Men and Women: A Moderated Mediation Analysis. Psychiatric Quarterly. DOI: 10.1007/s11126-020-09723-8 [PDF, English]
Macheta, K., Gorbaniuk, O. (2020). The lexical approach to the taxonomy of emotions. Annales Universitatis Mariae Curie-Skłodowska, sectio J – Paedagogia-Psychologia, 33(3), 21-32. DOI: 10.17951/j.2020.33.3.21-32 [PDF, English]
2019
2018
Ivanova, A., Gorbaniuk, O., Blėkaitytė, D., Dovydaitytė, E., Čepulienė, A.A., Mastauskaitė, G., Ramanauskas, R., Jurgelytė, U. Slapšinskaitė, R. (2018). Do adjectives exhaust the personality lexicon? A psycholexical study of the Lithuanian language. Current Issues in Personality Psychology. DOI: doi.org/10.5114/cipp.2018.73987
Gorbaniuk, O., Mirowich, A., Leoszko, W., Gorbaniuk, J., Kordon, A., Świderska, M., Kuts, O., Korczak, A. (2018). A Psycholexical Classification of Ukrainian Descriptors of Individual Differences. Current Problems of Psychiatry, 19(2), 1-8. DOI:10.2478/cpp-2018-0007
2017
Gorbaniuk, O., Razmus, W., Slobodianyk, A., Mykhailych, O., Troyanowskyj, O., Kashchuk, M., Drako, M., Dioba, A., & Кolisnyk, L. (2017). Searching for a Common Methodological Ground for the Study of Politicians' Perceived Personality Traits: A Multilevel Psycholexical Approach. Journal of Research in Personality, 70(4), 27-44. DOI: 10.1016/j.jrp.2017.05.004
Gorbaniuk, O., Ivanova, A., Blėkaitytė, D., Budraitytė, B., Pakalnytė, E.S. (2017). Lietuvos politinių partijų įvaizdžio vertinimo klausimyno adaptavimas jį modifikuojant. PSICHOLOGIJA, 55, 22-40. DOI: doi.org/10.15388/Psichol.2017.55.10734
Gorbaniuk, O., Kolańska, M., Wilczewski, M., Ivanova, A. (2017). A Lexical Study of Comparisons with Typical Brand Users of Goods. Applied Linguistics, 22(2), 29-44.
Gorbaniuk, O., Razmus, W., Firlej, K. Lebiedowicz, A., Leszczyński, M. (2017). Measuring corporate personality: A critical review and new insights. Journal of Brand Management, DOI:10.1057/s41262-017-0042-8

Gut, A., Wilczewski, M., Gorbaniuk, O. (2017). Cultural differences, stereotypes and communication needs in intercultural communication in a global multicultural environment. The employees' perspective. Journal of Intercultural Communication, 43.
2016
Glińska, E., Gorbaniuk, O. (2016). Restrictions on the use of the Aaker model in the measurement of city brand personality: The sender's perspective. Place Branding and Public Diplomacy, 1–13. DOI:10.1057/pb.2015.20

Gorbaniuk, O., Kapinos, A., Chodara, M., Chochoł, P., Kazanowski, K., Kliszcz, T., Mroczek, K., Kot, P., Kolańska, M. (2016). Need-Appeals, Benefit-Appeals, and Brand User-Trait-Appeals in Television Advertising: A Content Analysis of Commercials. Annals of Psychology, 19(4), 827-839.
2015
2014
Gorbaniuk, O., Szczepańska, N., Suchomska, M., Ivanova, A., Zygnerska, M. (2014). Adjective markers of Polish indigenous lexical personality factors: A peer-rating study. Annals of Psychology, 17(2), 307-324 [PDF, English, Polish].
2013