Studies:
The Faculty of Law, Canon Law and Administration offers legal studies in the following courses:
full-time and part-time master course (5 years)
full-time and part-time postgraduate course (4 years)
Business Law (master's degree course, 2 years)
The institute consists of 19 departments with over 90 scholars conducting their research and teaching activity. Many of them are distinguished theorists and practitioners of law. The faculty is accredited to confer doctoral and postdoctoral degrees in law.
Law as a major offers full-time and part-time courses. The graduates may elect to continue their studies in doctoral programs (full and part-time) and postgraduate programs.
The teaching of law complies with ministerial standards. The training program acknowledges the guidelines of the European Credit Transfer System (ECTS).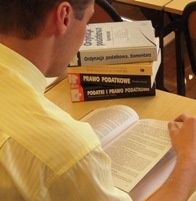 The students may participate in the international exchange program ERASMUS. Undergraduates are required to complete obligatory professional training. Students also have the opportunity to broaden their practical skills as regards the provision of legal assistance by enrolling in the University Legal Clinic and the Center for Advancing Legal Skills. Moreover, the University-based School of American Law offers training in the American legal system delivered through a series of lectures in English. Full-time studies also offer a specialisation in the keystones of Ukrainian law.
The training of future lawyers adheres to the Christian system of values; consequently, when taking up employment in legal professions, state and local administration and in other sectors of social activity, the alumni not only display a thorough legal knowledge, but also a model Catholic stance.