"The World in the Era of COVID" - academic debate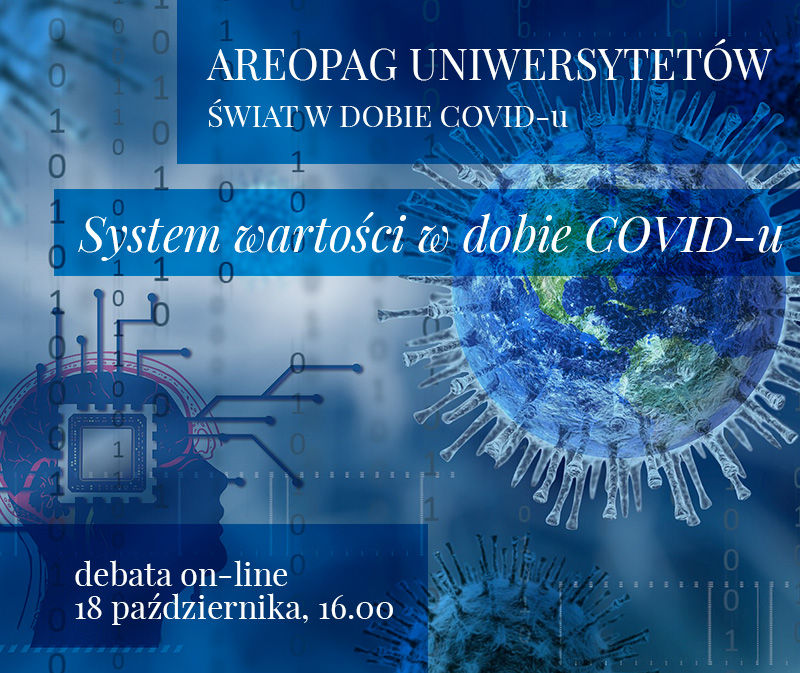 The University Areopagus - "The World in the Era of COVID", is a unique initiative of KUL, its partners have become the leading Polish universities: University of Warsaw, Jagiellonian University and University of Adam Mickiewicz in Poznań. The main idea of ​​the Areopagus is to conduct a public debate on the challenges of the present day in university space, with the participation of all interested parties. The first of the debates will be held on October 18 at the Catholic University of Lublin.
Four universities, their rectors, experts, scientists - authorities in their fields, students, and invited guests will participate in a series of four meetings, during which various topics will be discussed, from medicine to humanities and social sciences, economics, business and management. - Universities should be a place of discussion and exchange of arguments on topics related to important, current problems. The outcome and conclusions may constitute the basis for media messages and direct the social discourse based on knowledge, science and experience - emphasizes the Rector of the Catholic University of Lublin, Rev. prof. Mirosław Kalinowski.
The first debate "Value system in the COVID era" was scheduled for Monday, October 18 at 16.00 at the Knowledge Transfer Center of the Catholic University of Lublin, auditorium CTW-408. The participants of the discussion will be experts appointed by their universities:
UW - Fr. dr hab. Cezary Smuniewski, prof. ASzW,
UJ - prof. Leszek Sosnowski,
UAM - prof. Zbyszko Melosik,
KUL - prof. Jacek Wojtysiak.
Moderator - dr hab. Artur Mamcarz-Plisiecki, KUL.
- The meeting is open to the public, therefore, apart from the academic community, I also invite all interested parties - emphasizes the Rector of the Catholic University of Lublin along with: The Rector of the University of Warsaw, prof. dr hab. Alojzy Nowak, Rector of the Jagiellonian University prof. dr hab. Jacek Popiel, Rector of AMU prof. dr hab. Bogumiła Kaniewska.
The event will be broadcast online on the university websites.