The Faculty of Theology of our University offers the biggest scholarly potential in Europe, if not even in the whole world. The highest academic level of studies is secured by the staff consisting of over 80 professors and over 90 doctors (ThDs), specialists in every single field of Catholic theology (Bible, dogmatic, fundamental, ecumenical, moral and pastoral theology, spirituality, history of the Church, patrology, liturgies, homiletics, catechetics, family studies and media). Each year around 50 doctoral students defend their doctoral theses and leave prepared for independent scholarly work and for lecturing in priestly seminaries and at faculties of theology.
Founded in 1918 as one of four of the then faculties of University, during 95 years the Faculty of Theology enrolled on the mission of the Catholic University, through conducting research in the harmony between the science and the faith, education of Catholic intelligentsia, and taking part in creation of Christian culture. Among the illustrious professors of our University was the blessed Pope John Paul II.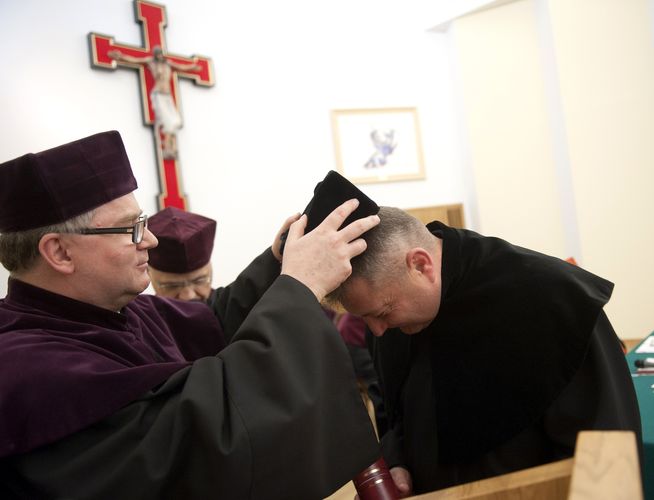 The lecturers of then Faculty are members of many prestigious national and international commissions and learned societies, such as: Pontificio Academia Theologica, Papal Biblical Commission, l'Association Internationale d'Études Patristiques, International Institute Anthropos, European Society of Catholic Theologians, Societas Oecumenica, Committee of Theological Sciences of the Polish Academy of Sciences, Learned Society of the Catholic University of Lublin, etc., where they perform different functions.
The proof of the high level of scholarly work conducted at our Faculty are 19 periodicals in various theological fields published each year as well as around a hundred theological books containing the fruit of research by our staff. Each year the faculty organizes various symposia, conferences and sessions, national and international, gathering speakers of worldwide prestige. Our Faculty collaborates with many academic institutions and universities.