As for galleries, we recommend the following:
Galeria 1 im. B. Słomki ul. Al. Racławickie 14

Galeria ACK UMCS ul. Radziszewskiego 16, tel. 081 533 32 01-03

Galeria Biała Centrum Kultury ul. Peowiaków 1, tel. 081 536 03 25

Galeria Grodzka, ul; Grodzka 5a, tel. 081 532 59 47

Galeria Labirynt II, ul. Grodzka 3, tel. 081 532 59 47

Galeria Mat- Mart, ul. Grodzka 32

Galeria Sceny Plastycznej KUL, ul. Racławickie 14, tel. 081 445 45 02

Galeria Stara, ul. Narutowicza 4, tel. 081 532 56 00

Galeria Sztuki Lubelskiej Szkoły Biznesu, ul. Narutowicza 8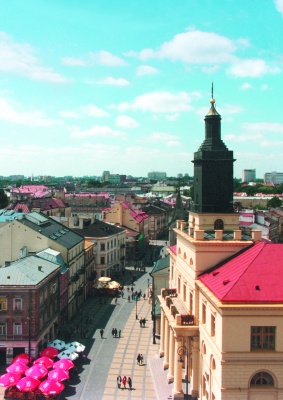 Cinemas
There are several cinemas in Lublin, among others:
Bajka, ul. Radziszewskiego 8, http://bajka.kina.lublin.pl/
Chatka Żaka, ul. Radziszewskiego 16,
http://http://www.ack.lublin.pl/kino/index.html
Kosmos, ul. Króla Leszczyńskiego 60, http://kosmos.kina.lublin.pl/
Wyzwolenie, ul. Peowiaków 6, http://wyzwolenie.kina.lublin.pl/
Foreign movies are normally shown with subtitles.
Restaurants, clubs, discos
As for lighter fare, Aristic Club Hades has live music (rock, jazz, etc.) and discos at weekends. The club organizes a three-day Hades Jazz Festival in late October. Chatka Żaka (ul Radziszewskiego 16, next to the campus) is a student club, which organizes cultural events on some days. We also recommend checking out such discos like: MC', Coloseum Club, Klub Megido, Kotłownia, Graffitti, Klub Studio, Koyot. Many of the city's pubs, cafes, clubs and restaurants are situated in the Old Town and in the centre, among others: Old Pub, Złoty Osioł, MC Restaurant, Alternatywa, Resursa. Some of the restaurants are especially worth visiting because of their exquisite cuisine and interesting location in historic cellars, often going down several metres below ground. Among them are: Piwnica Rycerska (Knights' Cellar), Gościnne Piwnice (Hospitable Cellars) or Piwnica pod Fortuną (Under Fortune Cellar).