Summer School

The summer program, organized into two series of courses, offers a wide range of possibilities from which to choose. The first series starts at the beginning of July, with a choice of courses lasting from 2 to 8 weeks, and the second starts in the end of July, with courses lasting from 2 to 5 weeks. All courses are available at different language levels and each course can be done at one of three levels of intensity.

Each day consists of a number of Polish language classes (depending on the chosen level of intensity) and a one-hour* lecture (delivered both in Polish and English) on Polish culture, history, or contemporary issues.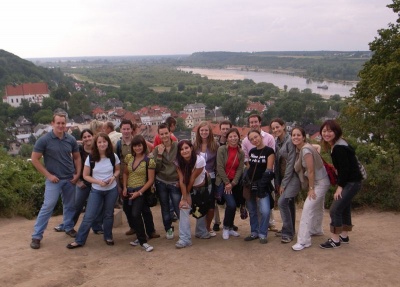 Additionally, all courses offer a variety of cultural and social activities such as sightseeing in Lublin, and day trips to picturesque places in the Lublin region, to the capital Warsaw or to interesting places along Poland's eastern frontier. Students are given a unique opportunity to meet with celebrities of Polish cultural and political life and see some of the masterpieces of Polish art and architecture. These trips and events are included in the course fee.


Language classes are held in groups of no more than ten students to facilitate individual attention and active participation.
Intensity of Courses
WEEKLY SCHEDULE

Monday

Tuesday

Wednesday

Thursday

Friday

HIGHLY
INTENSIVE
37
HOURS

INTENSIVE
33
HOURS

SEMI
INTENSIVE
25 HOURS

9:00
to 13.30

POLISH CLASSES : 4 HOURS

LECTURE :1 HOUR

17:00
to
18:30

ORAL PRACTICE:
2 HOURS

ORAL PRACTICE:
2 HOURS

15:00 to 15:45
or
16:00 to 16:45

ONE-TO-ONE PRACTICE
1 HOUR

ONE-TO-ONE PRACTICE
1 HOUR
Semi-Intensive Course 9:00 to 13:30, 25 hours* per week
This course is for students who want to acquire or develop the linguistic skills necessary for communication in everyday situations and that would constitute a solid base for further study of the Polish language. Special attention is paid to the acquisition of vocabulary and grammatical structures as well as to the development of oral fluency and pronunciation.
Intensive Course 9:00 to 13:30 and 17:00 to 18:30, 33 hours* per week
This program is designed for students aiming at rapid linguistic progress. In addition to the morning classes (see Semi-Intensive Course), there are afternoon sessions, devoted to oral practice and extended development of vocabulary and pronunciation.
Highly Intensive Course 9:00 to 13:30 and 15:00 to 18:30, 37 hours* per week
Beyond the Intensive Course program, students on this course receive an extra four hours per week of one-to-one tuition. These hours are devoted to practicing oral skills in real-life situations (eg. student and tutor visit a post-office), with role-play activities, and with any other language practice determined by the needs of the student. This provides a unique opportunity for the creation and pursuit of an individual linguistic program.
---
Year Round Program
This intensive study course, available to students at beginner, intermediate and advanced levels, is designed for those seeking to achieve versatile communication skills and develop a thorough understanding of Polish language and culture, and is especially for those who require fluency in Polish for professional or academic purposes. On completion of the course, participants should be able to master the Polish language sufficiently to begin university studies or work in Poland.
Starting in October each year, the course runs for two academic semesters, and the weekly schedule comprises 23 to 25 hours* of classes and lectures delivered in Polish. In groups of no more than ten, students practice comprehension and enhance their oral and written expression. Lectures by academic specialists in Polish art, literature, history and social issues, and opportunities to participate in the cultural life of Lublin, enable students to gain an insight into Polish culture and traditions.
The course begins with an "ice-breaking" trip to Kazimierz Dolny, a picturesque 17th century town near Lublin and home to many artists. In the mid-year break (the end of January - the beginning of February) students go on a few days' trip to an attractive town or region in Poland. At the end of the academic year there is a trip along the eastern frontier of Poland where the interesting mixture of three distinct cultures - Catholic, Byzantine and Jewish - can be appreciated.


---
Other Courses
Individual Courses
At the special request of individuals or companies, courses can also be provided on a one-to-one tutor-student basis, or for small groups. The time schedule and contents of such programs are arranged according to participants' availability, particular needs and preferences.
For those studying or working we propose classes of between 4 and 8 hours (or a different number) per week at times tailored to suit the particular time demands of the student. These programs allow for swift mastery of communication enabling the student to deal with everyday situations in Polish society.
Erasmus Program
Students participating in the Erasmus Program can attend special courses available at different language levels.
Special Courses
In co-operation with institutions engaged in the presentation of Polish language and culture we conduct many programs adapted to the specific needs of particular groups. Such programs are ideal for those seeking to concentrate on given aspects of our courses: language; lectures; in various academic fields; meetings with representatives of Polish political, economic and cultural life; sightseeng involving the presentation of Polish culture.
The Kosciuszko Freedom Tour of Poland
An educational two-week long program organised in cooperation with the Kosciuszko Foundation in the USA. The tour consists of a number of lectures, trips, and meetings, and Lublin is visited on the route from Warsaw to Cracow while following the traces of our multinational hero. Those who take part in this engaging program will discover the romanticism and beauty of Poland, along with the modern-day vibrancy of the country.
More information on: www.thekf.org
* In the Polish educational system one academic hour equals 45 minutes.