Record-breaking Lublin Science Festival
The 19th edition of the Lublin Science Festival, which will begin next week, guarantees to break the record. - The program of this year's Festival is very rich - emphasizes the Catholic University of Lublin's Vice-Rector for Science, Sister Prof. Beata Zarzycka, Professor of the Catholic University of Lublin, who adds that the number of submitted projects has already reached a record number of more than 1,700 events. The Festival program consists of proposals prepared by five public universities of Lublin (the Catholic University of Lublin, Lublin University of Technology, Maria Curie-Sklodowska University, Medical University, University of Life Sciences), as well as the City of Lublin and many institutions and associations. A press conference announcing the Festival was held at the Catholic University of Lublin (KUL) on September 13, 2023.
This year's edition of the Festival will run from September 18 to 24, 2023, under the theme "Science for the Future," and its main organizer is the Catholic University of Lublin. - The Festival is an excellent opportunity not only to show science to the general public, but also to inspire new ideas - says Sr. Vice-Rector Zarzycka, who stresses that for the participants of the event it will be an opportunity to see how science responds to the challenges of the modern world.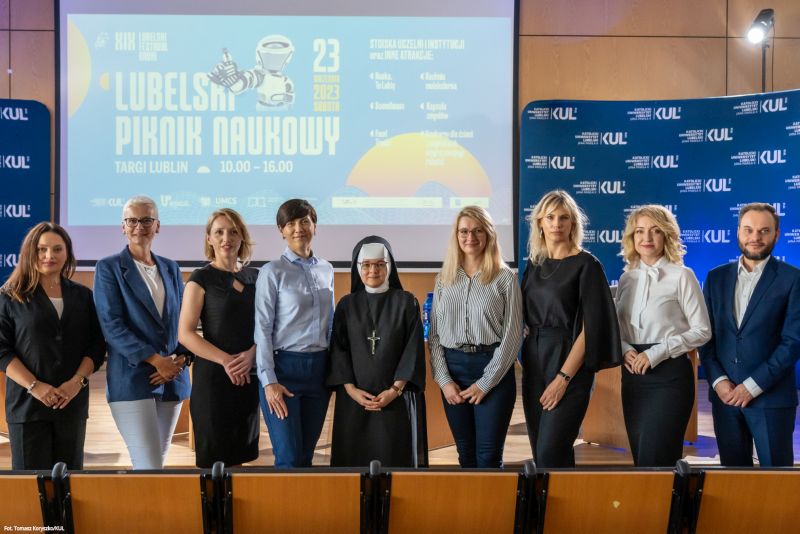 Although the festival projects will begin on Monday, on Sunday, September 17, there will be an evening full of space events. - In cooperation with Direction Earth/Space, we invite you to the Catholic University of Lublin for a meeting with Dr. Slawosz Uznański, who, most probably, will be the second Pole in space, says LFN coordinator Dr. Anna Dutkowska. It will be an opportunity to learn how one can become an astronaut of the European Space Agency and what training before a space flight looks like, as well as to look at earth from the perspective of space thanks to video-mapping on the facade of the Center for Meeting of Cultures.
It is worth noting the events scheduled for Friday, September 22 - a workshop for high school students "Creative Creator of the Future", as well as a meeting with pioneers of positive cyberpsychology, who will disenchant artificial intelligence and show its positive aspects.
Each of the universities co-creating the Festival has prepared a number of projects aimed at different age groups - from kindergarteners to schoolchildren and seniors. The Catholic University of Lublin invites, among others, to workshops where the participants, wondering if artificial intelligence is really a threat to us, may find an answer. It will also be possible to take part in an anatomy lesson at a virtual anatomy table, learn what human scent is made up of and why it is an important trace of a crime, while seniors will be able to learn about the methods of operation of organized crime groups, which have chosen this social group as their victim.
Employees of Lublin University of Technology will take Festival participants into the micro-and nano-world, and help tame mathematics in the Mathematical Escape Room. They will also present vehicles created by lecturers and students - the hydrogen-powered Hydros, the Mars rover Orion or ecological flying objects. You may also visit a coffee corner built from recycled materials.
At the UMCS, you will be able to, among other things, take part in exercises on generating images using the artificial intelligence MidJourney, find out if you can get electricity from plants, and if you can pay by phone without a bank account? On the other hand, at the Czermno excavation site, find out what an archaeologist's work is all about, learn about excavation methods, methods of exploration, new technologies and the most interesting discoveries.
Among the projects of the Medical University are the ABCs of healthy eating or first aid for everyone. You will also be able to learn facts and myths about vaccinations, find out if natural compounds can beat cancer, and can teeth cause headaches? In addition to projects related to medicine and health care, students will be able to take part in workshops on why is it worth learning and why is it worth being entrepreneurial?
The University of Life Sciences has prepared projects related to nutrition. Preschoolers will be able to find out if there are healthy sweets, and slightly older children will be able to find out how to feed domestic pets - what is allowed and what is not allowed to eat for our pets. During the workshops it will be possible to learn how to freeze nature in the frame, i.e. how to take an interesting photo with your phone, as well as play the role of aeroplane passengers who are trying to survive in the desert after a plane crash.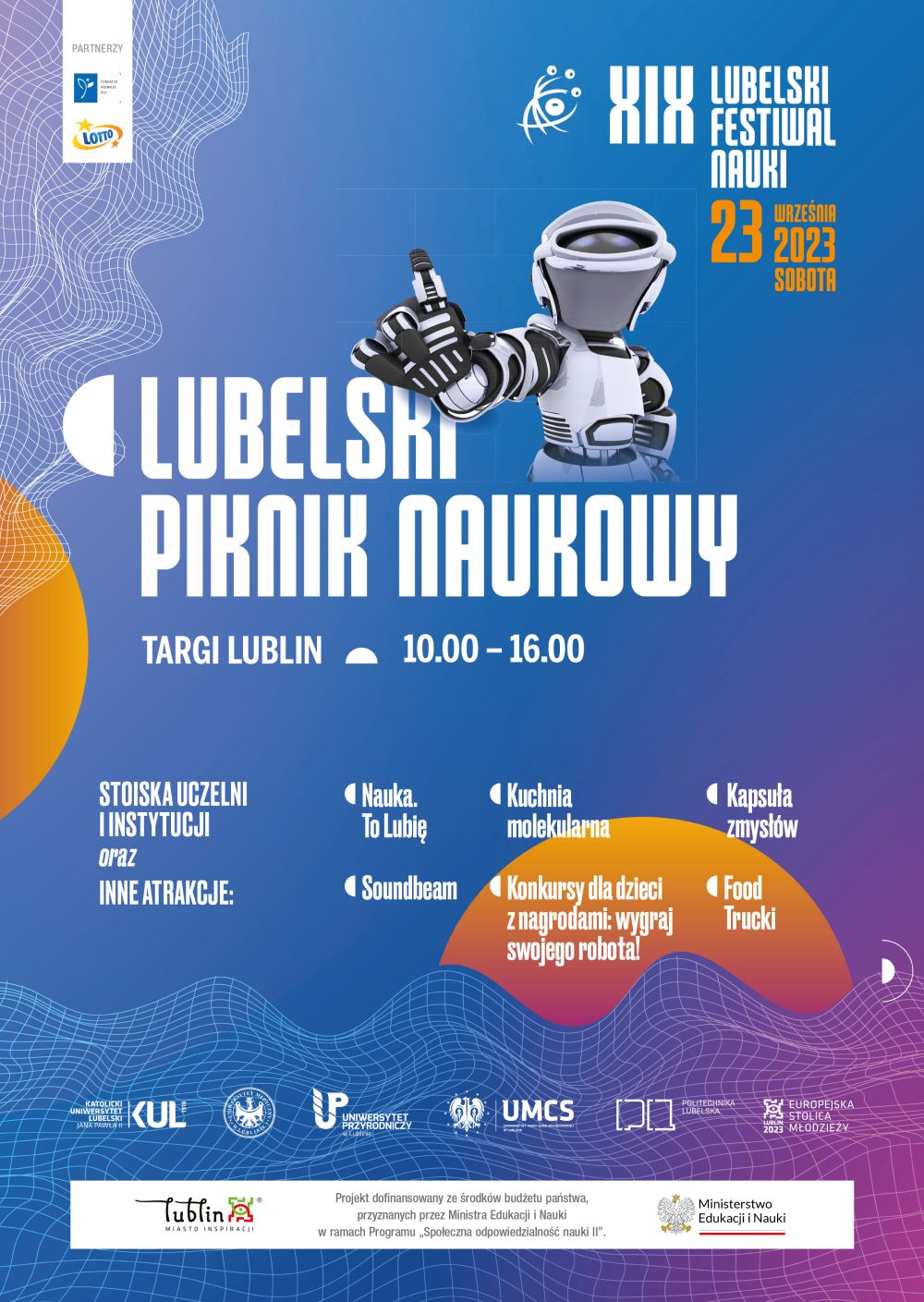 Because of the academic nature of the region, the City of Lublin has also participated in the organization of the Festival. One of the proposals prepared is a tour of Lublin on a vintage bus "Gutek". Since this year Lublin is the European Capital of Youth, a number of projects are aimed at this age group. These include workshops on robot programming or the practical use of 3D printers.
The culmination of the Festival will be the Lublin Science Picnic, which will take place on Saturday, September 23 at the Lublin Fairgrounds. In addition to the stands of universities and institutions, demonstrations of molecular gastronomy, a concert using soundbeam technology and competitions for children with prizes are planned. There will also be an opportunity to examine one's senses in a capsule of senses, as well as visit the stand of the Science I Like Foundation.
Details of the program and a list of projects can be found at festiwal.lublin.pl. You can still register for some of the projects, and some are available without registration.