Adjunct at the Chair of Media Social Communication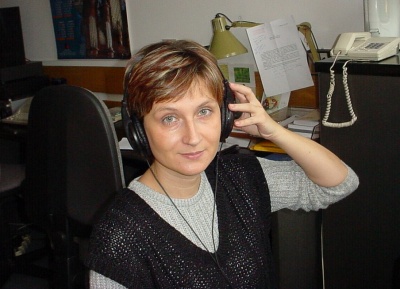 Contact:
malgorzata.zurakowska@radio-lublin.pl
Research and scientific interests:
Archives of public radio broadcasters
Evangelization in mass media
Media in the public culture
Małgorzata Żurakowska is a membership in scientific and professional organizations
Stowarzyszenie Uniwersyteckie Fides et Ratio // Fides et Ratio Polonia Society
Language editor of scientific quarterly "Fides et Ratio"
Stowarzyszenie Dziennikarze dla Zdrowia // Association of Health Care Jouralists
Member of the Program Board of J.I Kraszewski Museum in Romanów
Kapituła Nagrody "Angelus" // Member of Jury of "Angelus" Award
Polka w Europie // Polish Woman in Europe
Publications:
(selected publications)
- Radio w poszukiwaniu wartości (Radio in search of values), in: Media a wartości, człowiek w mediach, red M. Gabryś -Sławińska, UMCS 2016, pages 79-93, http://pfwt.webd.pl/pfwt/pliki/mediaiw5.pdf
- Trudne pytania o radiofonię publiczną (Tough questions about public radiophony), in: Kompetencje do prowadzenia edukacji medialnej ed. Olbrycht, B. Głyda, A.Matusiak, UŚ 2014, pages. 333-353
- Radio a tworzenie wspólnoty (Radio and a creation of community), in: Radio i społeczeństwo, red G.Stachyra, Elżbieta Pawlak-Hejno, UMCS 2011, pages 189-201
- Zależność informacji od źródeł, in: Jaka informacja, ed. L.Dyczewski, KUL, Lublin-Warsaw 2009
- Formy realizacji radiowej – gatunki w radiu publicznym (Ways of radio production – genres in public radio), in: Humanum. Międzynarodowe Studia Społeczno-Humanistyczne, 2010, number 5(2) pages 445-469
- Radiofonia publiczna w Polsce. Zarys problematyki (Public radiophony in Poland), in: Humanum. Międzynarodowe Studia Społeczno-Humanistyczne,2011, number 6(1), pages 225-241
Media experience:
Since 1997 journalist of Polish Radio Lublin, from 2003 head of Cultural and Social department of Polish Radio Lublin
Holder of the certificate Karta mikrofonowa (Microphone Card), category L and S
Author of educational, cultural, and religious radio broadcasts, audio plays and features.