Research Bulletin of Doctoral Students
of the Philosophy Faculty at KUL
Peer-Reviewed Scientific Journal
Scored by Ministry of Science and Higher Education (6 pts.)
Indexed in scientific journals databases:

ICV: 71.94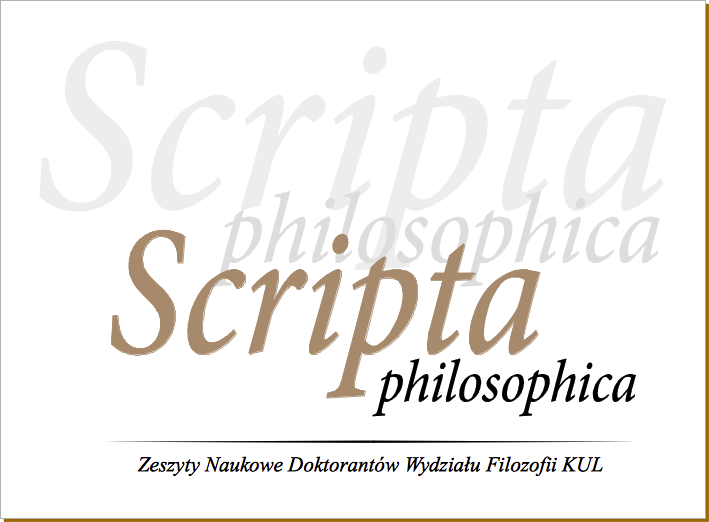 ISSN 2300-9357
Affiliation:
Faculty of Philosophy
The John Paul II Catholic University of Lublin
Year of foundation:
2012
Publication frequency:
Annual
Forms of publishing:
traditional, electronic
Trying to meet the challenging requirements of the new Higher Education Act, doctoral students of the Faculty of Philosophy in an agreement with the authorities, decided to establish a scientific journal Scripta Philosophica. Research Bulletin of Doctoral Students of the Philosophy Faculty at KUL.
Although the new journal is formally affiliated to the Philosophy Faculty of KUL, it is open to the entire academic environment. Therefore, an each doctoral student can publish contributions in four broad categories in Scripta Philosophica, provided that their subject matters refer to philosophical problems or closely related issues. It should not be forgotten that philosophy plays a crucial role in culture and therefore a spectrum of subjects with philosophical references is vastly rich - from theology, the arts through social sciences, law and the natural sciences.
Scripta Philosophica is an annually research bulletin, released in both the online and traditional (KUL Publishing) forms of publishing, that aims to create a platform for exchange of thoughts. It is directed to either young scholars at the beginning of scientific career or those who has already established and defined their research interests.
The opportunity for publication on early-stage of scientific research will definitely help to develop a wide range of skills, e.g. a formulation of clear and strong argumentation, a precise communication and exchange of research results, teaching at the same time an autonomy of thought and responsibility for the proclaimed thesis.
Moreover, Scripta Philosophica strongly encourages students to conduct an intensive research and gives a chance of publishing shorter writings before a completion of doctoral dissertation. Publication in the doctoral research bulletin, apart from a value of published studies, even if initially restrained, will be a medium of incremental improvement of writing skills of varied types of scientific writing. These abilities seem to be indispensable in a contemporary scientific culture which functions according to the rule: Publish or Perish.
The decision regarding publication is based on the recommendation of the independent scientific reviewer.
The invitation is directed to


all Doctoral Students from every philosophical center


to submit strictly scientific articles,
as well as translations, reports and reviews
referred to the widely understood philosophical culture.
The deadline for Vol. 5(2016) texts submission was September 31, 2016.

Vol. 6(2017) submissions are welcomed!
Editorial Committee