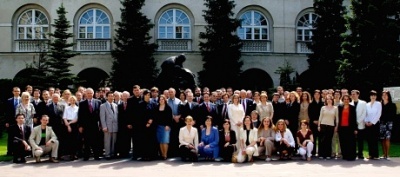 Law is a significant constituent of culture; it was and invariably is a decisive development factor deriving from the legacy of ancient Greece and Western Roman civilization. As a scientific discipline, it has been cultivated at universities from the beginning. Studium generale in Bologna, the first European university founded at the turn of the 11th century, was in fact a school gathering the most outstanding professors of Roman law and experts in canon law – the disciplines that provided favorable conditions for academic studies in medieval Europe. Likewise, Catholic universities, whose origins date back to the middle of the 19th century, formed legal faculties.
At the John Paul II Catholic University of Lublin law as a scientific discipline has been pursued since the very beginning of the University existence, i.e. since the year 1918, the same year in which Poland regained independence. The Faculty of Law and Socio-Economic Sciences and the Faculty of Canon Law were then incorporated into the University structure. The course in canon law has been functioning uninterrupted since then. However, the study of law ceased to be taught for the years 1952-1981 as a result of the dissolution of the Section of Law of the Faculty of Law and Socio-Economics Sciences caused by the Communist authorities. At present, the Faculty of Law, Canon Law and Administration, the successor of those faculties, continues the ninety-year-old juridical tradition at our Alma Mater by combining the studies of law, business law, canon law, administration and European studies.
The characteristic feature of studies at our University concentrates on the universal and humanistic, and not only the professional aspect of education. According to this assumption, the syllabuses, besides the core, fundamental legal subjects, additionally encompass general lectures on issues pertaining to the world of values, ethics, Catholic social science and the discipline of thinking.
The Faculty of Law, Canon Law and Administration having its share in the University mission, following the idea of Deo et Patriae, endeavors to train future lawyers, so that they will be capable of boldly facing the contemporary challenges and become creatively involved in the process of national transformation as well as being able to assume the new tasks necessitated by the technological progress, globalisation and Polish integration with the European Union structures and utilize their skills and education pro publico bono.