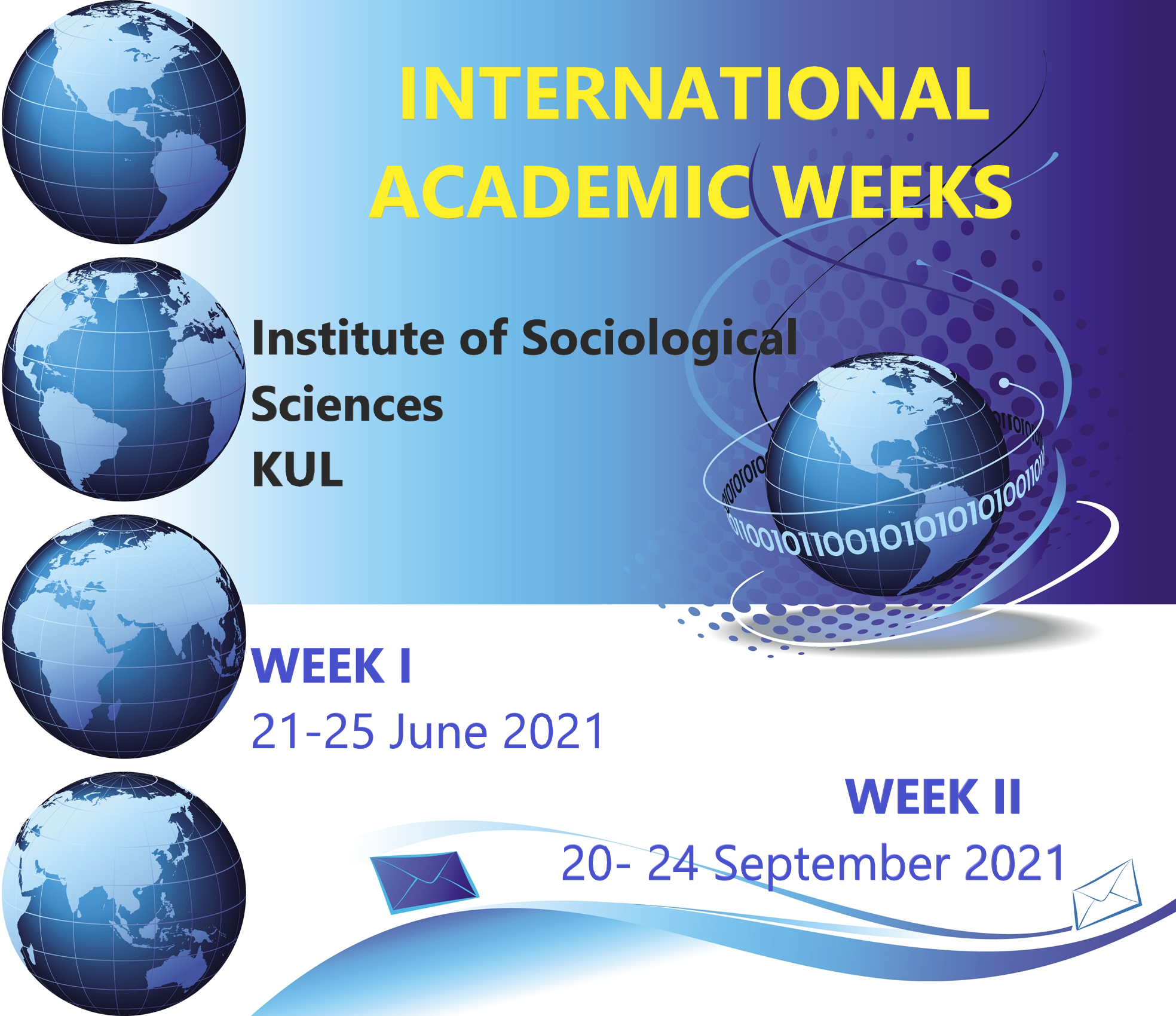 WEEK I
Day 1-3
XXth International Scientific Conference "Digital future of Central and Eastern European societies and economies" (more details: kul.pl/digital.futures)
Day 4
24 June: Meeting of the CEEPUS Network: Ethics and Politics in the European Context, 24th June 2021
Part 1.
Interdisciplinary Seminar "Development Challenges of the Central and Eastern European Societies and Economies after the Covid-19 Pandemic"
10.00 am:
Opening of the Seminar
–Presentation of the Network "Ethics and Politics in the European Context"
10.15-10.45 am:
–Reflections on Covid-19: Approaches and Challenges Beyond the End of the Pandemic, Prof. Radu Carp, Director of the Department of Public Policies, International Relations and Security Studies, University of Bucharest, Romania
10.45-11.15 am:
–Perspectives of the Western Balkan EU Accession in the (Post)Pandemic Time with a Special Focus on North Macedonia, Prof. Irena Rajchinovska Pandeva, Vice-Dean for Science and International Cooperation, Iustinianus Primus Law Faculty, Ss. Cyril and Methodius University, Skopje, Republic of North Macedonia
11.15-11.45 am:
–Inequality and Poverty in Transition Economies, Prof. Raul Caruso, Rector's Delegate to International Relations, Director of CESPIC, Catholic University "Our Lady of Good Counsel", Tirana, Albania
11.45-12.00 am: break
12.00-12.30 am:
–Times of Pandemic, Ecological, Socio-cultural Crisis and Epochal Changes of Cultures and Civilisations, Prof. Igor Bahovec, University of Ljubljana, Slovenia
12.30-1.00 pm:
–Irrational Consumers' Behaviours. A Rapid Development on Account of COVID-19 Pandemic? Prof. Grzegorz Adamczyk, Coordinator of the Network "Ethics and Politics in the European Context", John Paul II Catholic University of Lublin, Poland
1.00-1.15 pm:
–Summary and Final Conclusions
1.15-2.00 pm: break
Part 2.
General Meeting of the Network Coordinators
2.00-3.30 pm: Presentation of the Partner Institutions United in the Network "Ethics and Politics in the European Context"
–Prof. Igor Bahovec: Faculty of Theology, University of Ljubljana, Slovenia
–Prof. Zoltán Balázs: Faculty of Social Sciences and International Relations, Corvinius University of Budapest, Hungary
–PhD Piotr Burgoński: Institute of Political Science, Cardinal Stefan Wyszynski University, Warsaw, Poland
–Prof. Radu Carp: Department of Public Policies, International Relations and Security Studies, University of Bucharest, Romania
–Prof. Raul Caruso: Faculty of Economics and Political Science, Catholic University "Our Lady of Good Counsel", Tirana, Albania
–Prof. Radoslav Lojan: Faculty of Theology, Catholic University in Ružomberok, Slovakia
–Ms. Lenka Lukešová: International Office, Faculty of Humanities, Charles University, The Czech Republic
–Prof. Joanna Mysona Byrska: Faculty of Philosophy, The Pontifical University of John Paul II in Cracow, Poland
–Prof. Irena Rajchinovska Pandeva: Iustinianus Primus Law Faculty, Ss. Cyril and Methodius University, Skopje, Republic of North Macedonia
–Prof. Piotr Sula: Institute of Political Science, University of Wroclaw, Poland
–Prof. Elena Tilovska-Kechegi: Faculty of Law, University St. Kliment Ohridski, Bitola, Republic of North Macedonia
–PhD. Jaroslava Vydrová: Faculty of Philosophy and Arts, University of Trnava, Slovakia
–Prof. Grzegorz Adamczyk: Institute of Sociology, The John Paul II Catholic University of Lublin, Poland
3.30-4.00 pm:
–Development Strategy of the Network
4.00-4.15 pm:
–Summary of the Meeting, Any Other Business
Day 5
25 June: Development Challenges of Central and Eastern European Societies and Economies after the COVID-19 pandemic- Part 2
12.00-13.30 pm:
Scientific Seminar of the Lublin Branch of the Polish Sociological Association
14.00-15.00 pm:
Meeting of the International Project Team "Mobile technologies as a Factor of Business Efficiency during the COVID 19 Pandemic (the case of Latvia and Poland)"
……………………………………………………………………………………………………………
WEEK II
Summer School of the Network of Ethics and Politics in the European Context at the Catholic University of Lublin in Poland
Europe and European Union at the Crossroads. New Perspectives, Current Threats in (Post)pandemic Times
Programme:
Day 1
20th September (Monday)
9.00-9.30 a.m.: The opening of the Summer School:
Prof. Arkadiusz Jabłoński, Dean of the Faculty of the Social Sciences at the Catholic University of Lublin/ Prof. Grzegorz Adamczyk, Coordinator of the Network
9.30-11.00 a.m.: Inaugural lecture: "European Values between Mythos and Reality. Vision of Post-Pandemic Common Europe" (Prof. Grzegorz Adamczyk, Catholic University of Lublin, Poland)
11.00-11.30 a.m.: Discussion
11.00-12.00 a.m.: Coffee break
12.00-1.30 p.m.: Lecture: "Reflections on Covid-19: Different Approaches about the Outcome of the Pandemics" (Prof. Radu Carp, University of Bucharest, Romania)
1.30-2.00 p.m.: Discussion
2.00-3.30 p.m.: Lunch break
3.30-5.00 p.m.: Visiting the University: Campus and Museum of the Catholic University of Lublin
Day 2
21st September (Tuesday)
9.00-10.30 a.m.: Lecture: "Relationships and Dialogue between Cultures as an Integral Part of the European Integration" (Prof. Igor Bahovec, University of Ljubljana, Slovenia)
10.30-11.00 a.m.: Discussion
11.00-11.30 a.m.: Coffee break
11.30-1.00 p.m.: Lecture: Special Guest of the Summer School
1.00-1.30 p.m.: Discussion
1.30-3.00: Lunch break
3.00-6.00: Sightseeing: the most important places in Lublin
Day 3
22nd September (Wednesday)
9.00-10.30 a.m.: Lecture: "The Future of the EU: Challenges and Perspective. And the EU Strategic Perspectives in the Western Balkans" (Prof. Elena Tilovska Kechegi, University St. Kliment Ohridski Bitola, Northern Macedonia)
10.30-11.00 a.m.: Discussion
11.00-11.30 a.m.: Coffee break
11.30-1.00 p.m.: Lecture: "Rethinking Euroscepticism" (Prof. József Duro, Corvinius University of Budapest, Hungary)
1.00-1.30 p.m.: Discussion
1.30-3.00 p.m.: Lunch break
3.00-5.00 p.m.: Workshop: "Intercultural Competences. Language, Historical Places, Customs"
Day 4
23rd September (Thursday)
9.00-10.30 a.m.: Lecture: "Parliaments in Europe and the European Parliament" (Prof. Réka Várnagy, Corvinius University of Budapest, Hungary)
10.30-11.00 a.m.: Discussion
11.00-11.30 a.m.: Coffee break
11.30 a.m.: Excursion
Day 5
24th September (Friday)
9.00-10.30 a.m.: Lecture: "Polish Migrants' Attitudes towards Brexit. Results of an Empirical Study" (Marek Wódka PhD, John Paul II Catholic University of Lublin, Poland)
10.30-11.00 a.m.: Discussion
11.00-11.30 a.m.: Coffee break
11.30-12.00 a.m.: Ceremonial closing of the Summer School
Organizing Committee
Dr. Alina Betlej- e-mail: alina.betlej@kul.pl
MA Jan Gondek- e-mail: jan.gondek@kul.pl
Scientific supervision
Dr. hab. Grzegorz Adamczyk, prof. KUL- director of the Institute of Sociological Sciences, The John Paul II Catholic University of Lublin, Poland
Autor: Grzegorz Tutak
Ostatnia aktualizacja: 18.06.2021, godz. 10:52 - Alina Betlej