---
EARLY STAGES 8th edition
STUDENT SYMPOSIUM ON
LITERARY AND CULTURAL STUDIES
JUNE 2, 2023
---
EARLY STAGES 7th edition
STUDENT SYMPOSIUM ON
LITERARY AND CULTURAL STUDIES
JUNE 2, 2022, 1.00 p.m. via GoogleMeet
---
EARLY STAGES 4
STUDENT SYMPOSIUM ON
LITERARY AND CULTURAL STUDIES
MAY 24, 2018, 9:10, CTW 219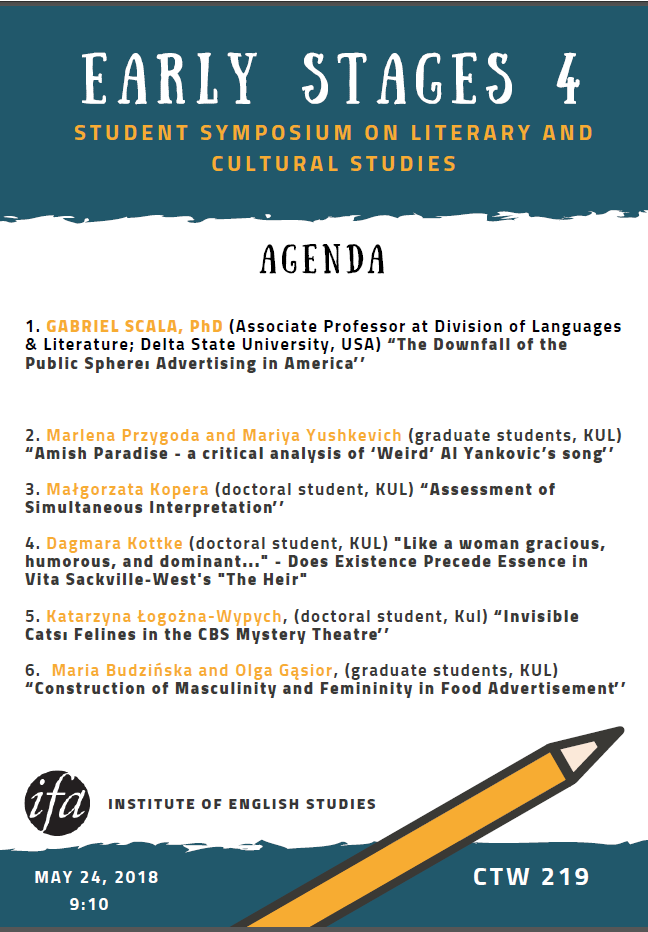 ---
THE 3rd EARLY STAGES: STUDENT SYMPOSIUM ON
LITERARY AND CULTURAL STUDIES
June 01, 2017, IFA reading room C-912
SESSION 1 – 10:00 – 11:30
Anna Oleszczuk, "Intersections of Science and Religion in Roger Zelazny's Lord of Light (1967)"; (Ph.D. student, UMCS)
Alicja Pstrąg, "Do food commercials divide the society?" (MA studies, KUL)
Juan Antonio Alvarez Martínez, "Super Bowl: a sports or popular culture event?" (MA studies, University of Murcia, Spain)
Break 11:30-11:40
SESSION 2 – 11:40 – 13:50
Alicja Świca, "Carnivalesque spaces in E. A. Poe's 'The Cask of Amontillado' and Thomas Ligotti's 'The Last Feast of Harlequin'" (BA studies, KUL)
Lidia Kniaź, "Sound Effects as Signatures of Place and Characters in Sicario (2015)" (Ph.D. student, UMCS)
Weronika Chojnacka; "Fanfiction as a new literary form explained on the example of Harry Potter fanfics" (MA studies, KUL)
Gabriela Olszewska, "How much of a soul is in the soul food?" (MA studies, KUL)
Conference closing 14:00
---
2016
THE 2nd EARLY STAGES: STUDENT SYMPOSIUM ON LITERARY AND CULTURAL STUDIES
June 16, 2016, IFA reading room C-912
SESSION 1 – 11:00 – 12:20
Maciej Czerniakowski, MA "We're All Infected - Posthuman Mechanisms of Power" (KUL)
Marta Orlik "'A nice quiet horrorshow'? - conditioning in science fiction" (UMCS)
Łukasz Wilk, MA "Star Wars as high fantasy" (KUL)
Break 12:20-12:30
SESSION 2 – 12:30 – 13:50
Szymon Wierzbicki and Tomasz Pyda "Cookies, steaks and snot. Food in The Matrix" (KUL)
Ewa Ziomek and Agata Latos, "Different Shades of Cannibalism: Ethics and Aesthetics of Consuming Human Flesh in the TV series Hannibal" (KUL)
Dominika Bugno-Narecka, MA "Enfolding food and war in Thomas Pynchon's Gravity Rainbow" (KUL)
Break 13:50 – 14:00
SESSION 3 – 14:00 – 15:30
Alicja Pilorz "(Un)homely spaces in the selected poems of W.S. Merwin" (KUL)
Maciej Samuś. "The Theme of Immigration in the Contemporary Australian Literature" (KUL)
Paweł Stankiewicz, MA "The relentless flow of time and its imprint on our culture. Interpreting Kate Atkinson's Life After Life (2013)" (KUL)
Conference closing 15:40
convenor: dr Urszula Niewiadomska-Flis
---
CALL FOR PAPERS for
THE 2nd EARLY STAGES: STUDENT SYMPOSIUM ON LITERARY AND CULTURAL STUDIES
to be held on June 16, 2016
Cultural, social, economic and philosophical issues are reflected in various "texts" of English-speaking countries. While examining these issues, students will have an opportunity to demonstrate that research methods used in different academic disciplines (such as cultural anthropology, food studies, social sciences, philosophy, art, music, etc) could benefit one other. Therefore, one of the central goals of the symposium is to provide students with a forum for an exchange of ideas and thoughts concerning the texts of English-speaking countries. The symposium aims to develop new analytical approaches to literary and cultural studies with attention to the issues relevant to students' own research areas. Thus, students whose academic interests intersect with literary and cultural studies are encouraged to consider participating in the symposium.
The 2nd Early Stages symposium is in its organizational stage, however the thematic focus is being shaped by the already submitted proposals, which for instance include the semiotics of food in various texts of American culture. Students are cordially invited to submit conference papers (approx. 20-minute presentations) on the texts of American, English and Canadian cultures. Contributions should be in English.
Please send a short abstract (a few sentences) stating your name and email address by June 6, 2016 to the following address: ulanief@kul.pl
All queries should also be sent to the above address.
Convener: dr. Urszula Niewiadomska-Flis
---
2015
Early Stages: Student Symposium on Literary and Cultural Studies
date: 17 December 2015, room: C 01B,
time: 11 am.
introduction: Urszula Niewiadomska-Flis
presentations:
Agata Momot "Typology of serial killers in American literature."
Patryk Krucień, "The theme of survival in Lord of the Flies and the television series Lost"
Mariusz Solecki, "Anthropomorphous diet in American literature and cinematography: cases of survival and aesthetic cannibalism."
Ilona Antoniak, "Staging rebellion: resistance in slave narratives."
Olga Dzierba, "The motif of hunger in Anzia Yezierska's Bread Givers."
convenor: dr Urszula Niewiadomska-Flis
Autor: Aleksander Bednarski
Ostatnia aktualizacja: 20.04.2023, godz. 11:43 - Krzysztof Skórski